Android Q Beta : Android Q Is The Latest Upcoming Software Update For Android Operating System. It Is Number 10th Version For Android Operating System That Will Be Released In Upcoming Days. Android Q Beta Version Is Already Available On Range Of Popular Device Makers Associates. After Android Pie(9.0) Rolled Out, We Were Looking Ahead For Latest Operating System i.e Android Q So That We Could see Major Changes To Android OS. Android Q Name Hasn't Been Announced Yet.
In March 2019, Google Launched Android Q Beta Version For Certain Smatrphone Makers. Android Q Leaks & Rumors Suggest That Google Is Going To Bring Significant Changes To Its Latest Android Operating System. In This Post We Will Discuss Android Q Beta New Features.
7 Thing You Need To Know About Android Q Beta
#1: New Improved User Interface With Changeable Theme Option
The New Android Q Brings Many Improved Features On Your Smartphone. Android Gives You Full Freedom To Customize Your UI At Any Extent. This Feature Make Android Ahead From Other Operating System. But This Feature Was Not Available In Stock Android. Android Q Developer Option Allows You To Customize Your UI Accent Color. It Offers You Black, Purple & Green Color Apart From Its Regular Default Blue.
#2:

No More Old Familiar Back Button
If Reports Are To Believed, Android Q Will Have A New Gestural Swiping Feature For Navigation Which Means We Will Not See Old Back Button. User Will Need To Drag Homescreen Edge To  Go back. It Is Going To Be Preety Tough For Regular Android User To Adjust With Gestural Swiping Feature.
#3:

First Operating System Which Supports 5G
Android Q Will Be The First Operating System Which Will support 5G. This Will Enrich User Whole Experience. User Will Get Faster Connectivity With Better Gaming Performance. Android Q New API Will Detect User Internet Speed & Will Decide The Amount Of Data Which Needs to Be Send & Will Optimized According To User Connection.
#4: New Experience & Support For Foldable Smartphones
We Are Witnessing A Huge Transformation In Smartphone Sector. Everyday we Are Being Introduced To A New Technology. Among This A The New Trend Developed Which Is Foldable Smartphones.  Android Q Have A Feature Called Foldables Emulator Which will Be Helpful In Foldable Smartphones. It Will Enhance Overall user Experience In Foldable Phones.
#5: New & Improved Privacy Feature
Android Q Comes With More Then 50+ New Security Features & It Is Mainly Focused On User Privacy. User Will Have Full Control Over Applications. You Will Only Share That Much Amount Of Information Which You Wish to. Your Location Will  Hidden From App. Android Q Also Provide Protection Against Sensitive Information Of Your Device Like Your Serial Number. It Will emphasis On Boosting Users Privacy.
#6:

Entry Of Dark Theme In Android Q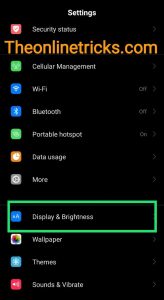 Finally, Dark Theme Took Entry In Android Q. User Will Get Access To dark System Wide Theme. You Can Enable Dark Theme Feature In Display Setting. Dark theme Help Us To Reduce Battery Usage & Improve Visiblity.
#7:

Support HDR10 + In OS
Android 10 Will Support HDR10+ Directly Into Operating System Which Means that User Will Get High Quality Video Capture No matter Which Application They Are Using.
ALSO READ : Simple Tips To Speed Up Your Smartphone Performance
For Any Query Or Suggestion Do Comment Below.
Like Our FACEBOOK PAGE