Build A Website : Howdy Guys!! I Hope You All Are Enjoying Offers & Deals On The Online Tricks. You Guys Requested To Make A Blog On The Process Of Building A New Website. So, Here I Am With All The Details You Need. In This Post We Will Discuss The Process Of Making A New Website Step By Step. So What Are You Waiting For. Lets Get Started !!
How To Build A New Website & Create Blog
In The Era Of Internet & Digital World Its A Great Idea To Build A Site & Express Your Knowledge & Skills To Other. Its A Great Platform To Expand Your Buisness Too. You Can Communicate To Millions Using This Advanced Platform & Can Share Your Knowledge. Making A Website Is Not A Difficult Job. Just Follow The Below Given Steps To Make A New Website For Beginners.
#1: Choose Your Topic
The First Thing Which You Need To Consider Before Making A New website Is Your Plan. What Exactly Are You Going To Do With Your Website. Whether You Are Going To Share Your Thoughts In a Post Or You Are Using It To Grow Your Buisness Like Selling Any Product Online & Creating A Online Hub For Your Shop. You Goal Should Be Preety Clear. Choose The Topic You Need To Further Enhance.
#2: Choose Your Domain Name 
Select Your Website Name As Your Domain Name & Website Name Should Be Similar. Your Domain Name Should reflect Your Content. If You Are Going To Make A Product Selling Website Then Its Name Should Be Your Product Company Name. Always Try To Make Small Names For Your Domain URL. For Buy Domain According To Audience You Want To Reach.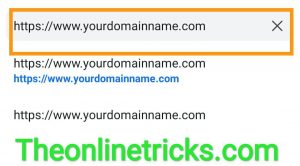 If You Want To Target Global Audience Then Purchase '.com' Domain Whereas If You Want To Reach Indian Audience Then Buy '.in' Domain. There Are Multiple Types of Domain Available In Market. Choose According To Your Need. You Can Buy Domain From Various domain Provider Like GoDaddy, BigRock, NameCheap etc.
#3: Choose A Web Hosting Plan
The Next Thing You Have To Do Is Choose A Web Hosting Plan For Your Name. Domain Name Is Just Like Your Home Address & Web Hosting Is Like Your Home. Without Home If You Go By Address You Will Not Find Anything. So Just Like That You Need To Have A Web Hosting For Your Preferred Domain. Choose Web Hosting Plan According To Your Need.
Web Hosting Decide Your Website Loading Speed & Website Maintanance. You Can Upgrade Your Hosting Plans Whenever Needed. There Are Several Type Of Hosting like Shared, Cloud etc. Beginners Can Go For Shared Hosting. You Can Buy Web Hosting From Various Hosting Sellers Like GoDaddy, NameCheap etc.
#4:

Choose A Website Platform
You Need A Platform To Build Your Website. Wordpess Is The Best Website Builder. You Will Get Every Features To Build Your Site And Customize Your Website. WordPress Provides different Plugins & Themes To Make Your Site More Attractive & Professional. WordPress Beginners Software Is Free To Use For Everyone. 
#5:

Build Your Site
After All The Above Process, Its Time To Rearrange Everything. After Connecting Your Domain To Web Hosting & Installing WordPress. Apply A Decent Theme According To your Choice. Add Plugins According To Your Need. Customize Your Website Design Using Theme Panel Setting Option Available On The Dashboard.
To Add Some Content On Your Website Go To Post Option. Create A New Blog & Then Publish It. Your site Is Live & Ready To Rock. You can Customize Your Website According To Your Need. So, Its easy Process To Build A Website.
FINAL WORDS : 
There Are Several Others Platforms Which Allow Users To Post Directly Without Creating A Website like Blogger & Wix. For Beginners, It Would Be Better To Practice On Blogger Before Building A site. It Will Give Ample Idea & Experience To User. After That You Can Switch To Your Own Website.
Also Read : 7 Thing You Need To Know About Andriod Q
Like Our FACEBOOK PAGE
For Any Query & Suggestion Do Comment Below.